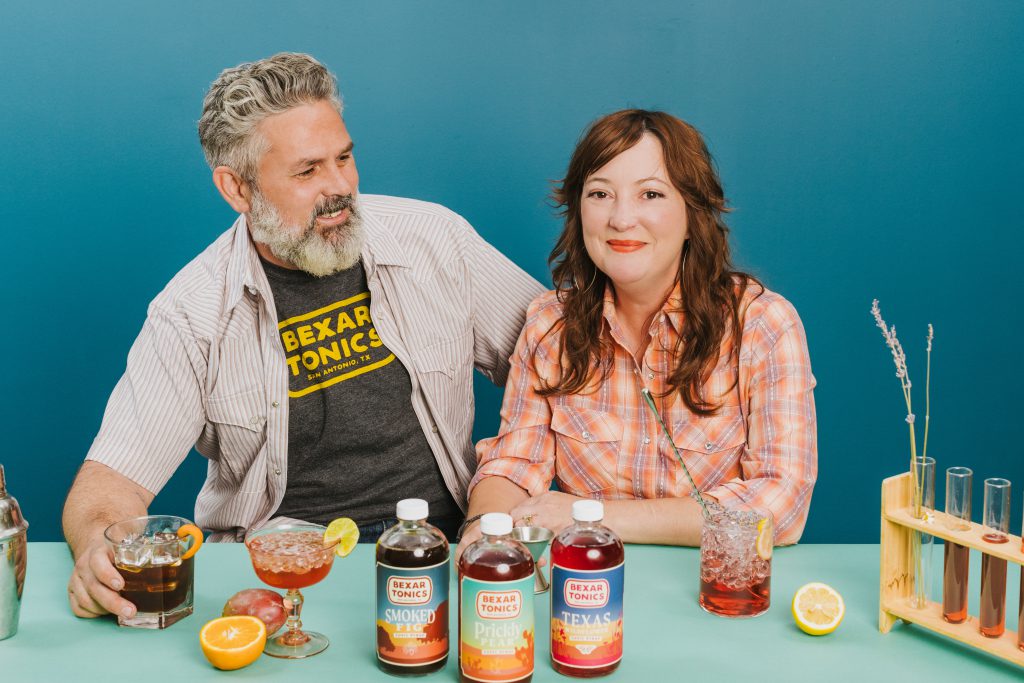 ---
Bexar Tonics was created in late 2020 as a COVID home project by San Antonio locals, Matt McLaughlin & Maray McChesney.
Several years ago, Matt and Maray were growing a spring herb garden in their Beacon Hill-area front yard and wanted a botanical cocktail to enjoy in the late afternoons. Gin & tonics seemed like a good fit, but most commercially produced tonic waters contained high fructose corn syrup and artificial ingredients, which would make Maray sick. So Matt decided to research how to make a traditional tonic syrup, the old fashioned way, with real cinchona bark imported from South America. After that, making tonic syrups had become a hobby for Matt.
Then in the spring of 2020 when COVID hit, Matt was furloughed from his job. Naturally, he tended to his hobby of making tonic syrups to cure his quarantine boredom. When summer came around, plump tunas began to ripen on prickly pear cacti. So Matt decided to add some prickly pear tunas to his tonic recipe and that's when the Prickly Pear Tonic Syrup was born. Maray took a photo of a vibrantly colored cocktail in their family kitchen, posted it to social media, and their friends began asking where they could find it. This came at a time when many people began experimenting with home cocktails, due to local bar closures. So Matt & Maray decided to fill orders and deliver bottles of the Prickly Pear Tonic Syrup to their friends' homes around San Antonio. What started as a hobby quickly became a business.
Seeing the popularity of their tonics, Matt & Maray decided to start their company, Bexar Tonics, inspired by native and abundant plants growing in and around Bexar County and South Texas. They designed their own labels at the time and went through all of the steps to become a commercial business, landing them their first commercial account with Hotel Emma.
As summer turned into fall, prickly pear tunas became more scarce. Predicting that Prickly Pear Tonic Syrup would most likely be a seasonal flavor, Matt and Maray developed two new flavors. The first is Texas Wildflower, made with lavender and butterfly pea blossoms, as a nod to a Texas Spring, and the second is Smoked Fig, as a celebration of Autumn and Winter.
Each flavor of Tonic Syrup is unique in its own way: Prickly Pear is bold and complex, pairing nicely with vodka, sparkling water and lime. Texas Wildflower is light and refreshing, pairing well with a mild gin. Smoked Fig is deep and dark with smoky tobacco-like flavors, pairing well with a bold Texas whiskey.
Bexar Tonics are now being poured in several downtown San Antonio restaurants and bars, and are stocked in some local retail shops. Matt and Maray haven't decided exactly how far they want to expand Bexar Tonics in the long term, but as proud locals, they definitely know they want to serve the San Antonio community for as long as possible.